Omega Cabinetry partnered with the iconic House Beautiful team as they transformed a historic home in Atlanta, Ga. for their fifth annual Whole Home project. The space is filled with functional storage and custom details that brought the designers' vision to life. The renovation of the 11,000-square-foot home built in 1958 took a team of designers and contractors just under a year to complete and we are swooning over the results! Each room was thoughtfully designed with Omega Cabinetry's custom capabilities in mind. Included throughout this large home, Omega is featured in the main kitchen, the scullery, the wine room, and the butler's pantry. These areas are brought to life by the Feuring Beaded Inset, a 1-inch-thick door style, with a slab-top drawer that exudes a period-based but timeless look. This style, along with the finish pairings, acts more like functional furniture pieces than the more common aesthetic of simple, clean-lined cabinetry that has been favored over the last few years. The layout and design combination couldn't be more perfect!
To learn more about inset cabinetry, click here!
Featured Design Trends
Trusting a professional kitchen designer to create a space that is magazine-worthy with extra details that really stand out means experimenting with custom cabinetry, unique finish palettes, and mixed materials. The spaces in the Whole Home project feature integrated appliances, multi-tonal finishes, and glass mullions, door inserts, and open shelving throughout.
Integrated Paneled Appliances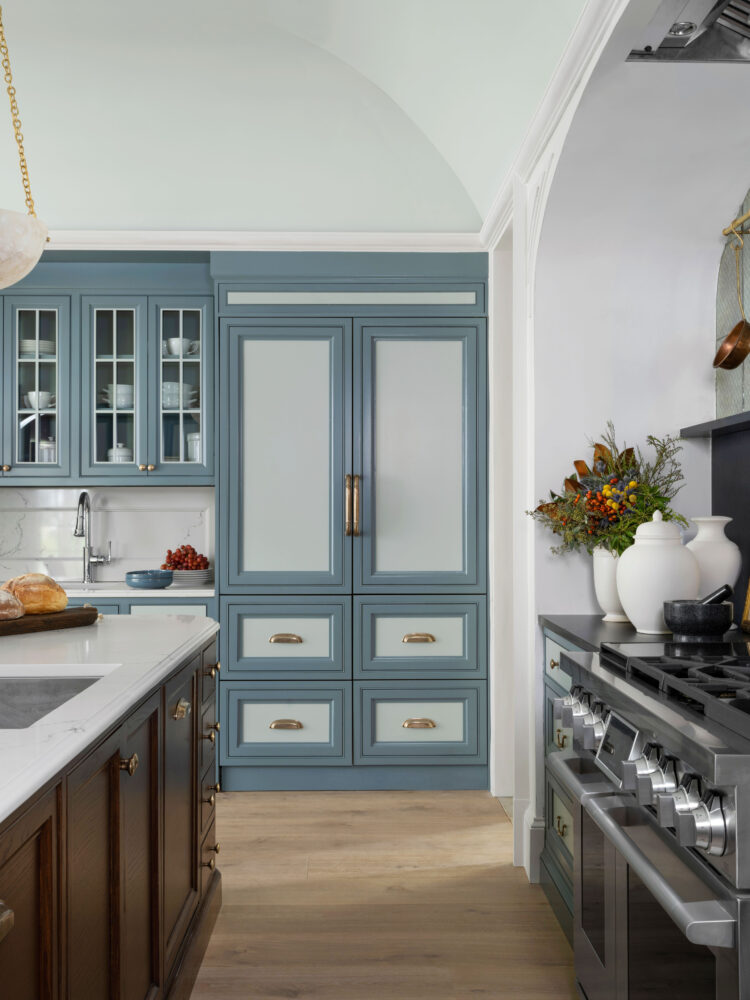 Disguising your kitchen appliances with integrated door panels allows for a seamless, premium look as those appliances now blend in with the rest of the cabinetry. A huge benefit of integrated appliances is that it also calls for the refrigerator to be counter-depth, aligning with the surrounding cabinets and not protruding into the walkway.
A perfect example is the hidden refrigerator with freezer drawers, pictured above. Because of the custom paneling, it appears to be a tall pantry unit, until it's opened and reveals itself as a working appliance. These panels also allow for many customization options. This application also works on dishwashers, ice machines, and beverage centers or, when a peak inside is called for, wine refrigeration as seen above.
Multi-toned Kitchen Finishes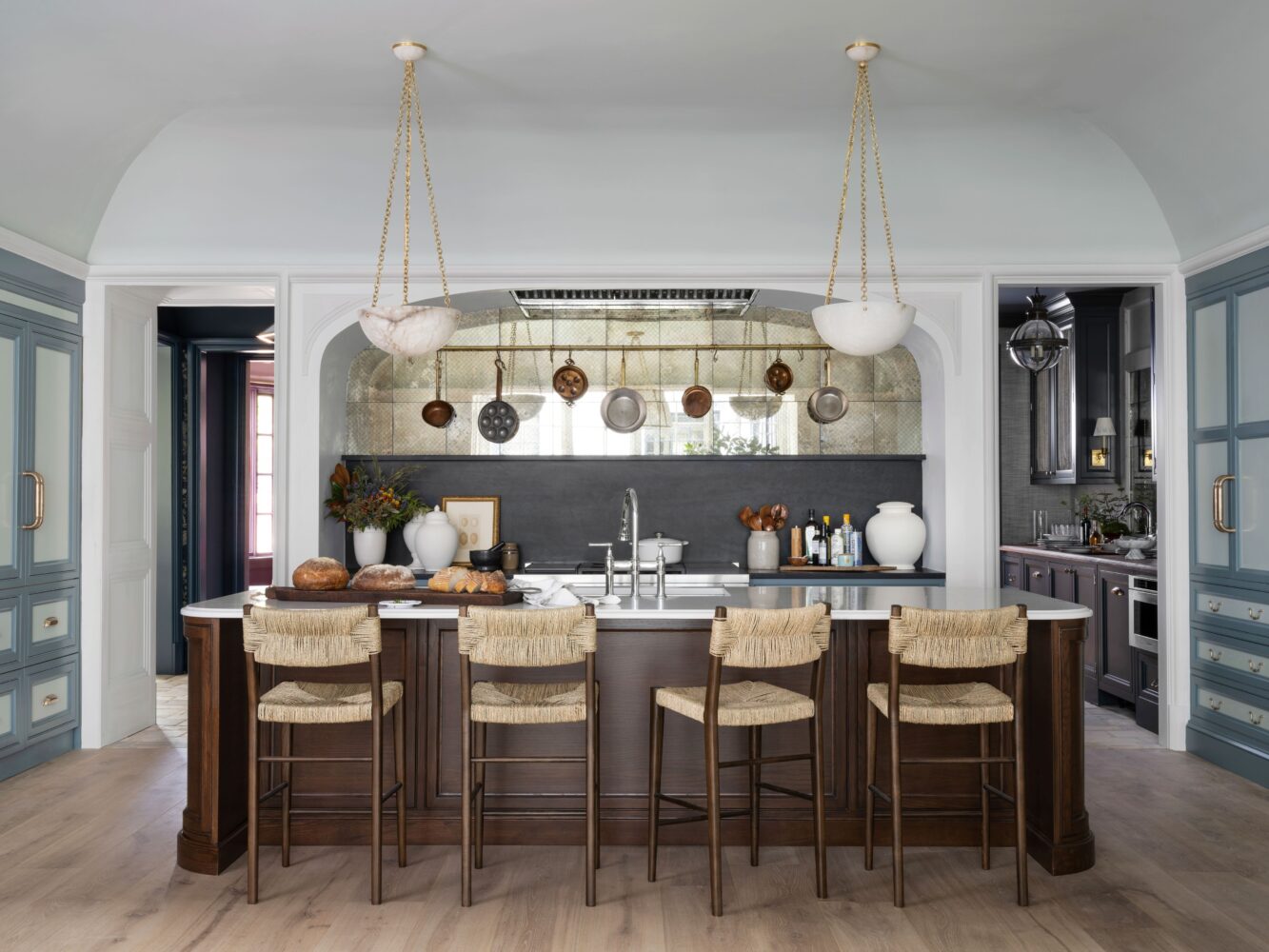 Mixing finishes, such as paint and a stain, in a well-designed area, enhances the personality of a space. Letting your cabinets be the focal point allows for the other materials and finishes to become a neutral backdrop as light floors and white walls continue to gain in popularity. And with that neutral palette, it's easy to change your beloved décor with your ever-changing style or embellish your space with personalized and curated tastes.
Mixing these finishes within the kitchen has been popular for many years. One way to really enhance that combination is by combining them with mixed wood species. You can really start to see those textures come to life. The use of Omega's Kodiak finish on Oak provides a deep, richness, and aged authenticity, especially when paired with an array of blue shades as shown by this design. The two pop together and tie this classically inspired space together perfectly and with loads of personality!
Easy and Accessible Open Shelving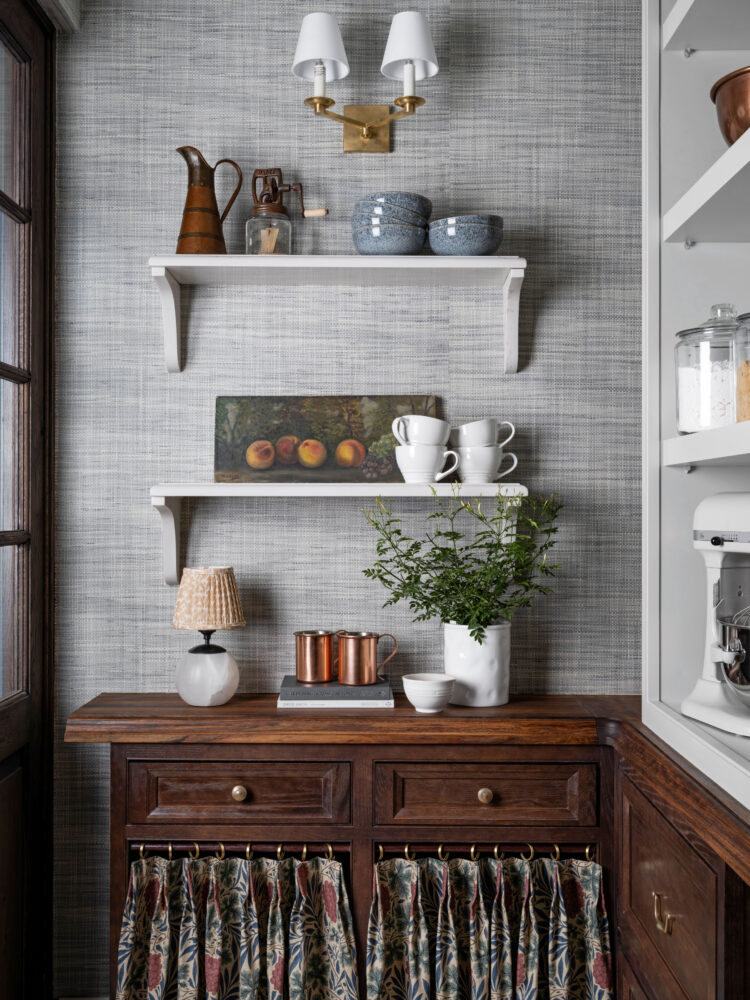 Open cabinetry has been and continues to be a perfect way to elaborate on decorative features within a space. We love the thoughtfulness behind the use of open shelving in this butler's pantry. It works efficiently while proving a stunning display of custom cabinetry! When used in the right setting, open and floating shelves provide increased functionality with ease of access to out-of-stock pantry goods. The utilization is perfect in this setting as these items aren't seen by house guests in the main kitchen. Yet, they still help with meal prep and entertainment needs in the most efficient manner.
For more details on Omega custom cabinetry, click here. To read more about the House Beautiful Whole Home project, click here.
Credentials: BRAND: House Beautiful / DESIGNER: Whittney Parkinson / BUILDER: Ladisic Fine Homes / PHOTOGRAPHERS: Robert Peterson and Tomas Espinoza